USING STORYTELLING & MUSIC FOR CONFLICT RESOLUTION
Ann Shapiro is a professional storyteller, folksinger, and multi-instrumentalist with extensive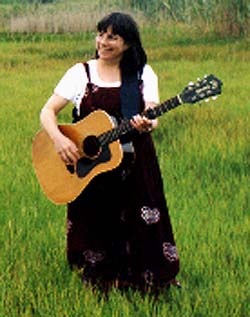 experience in arts-in-education. For the past twenty years she has presented assemblies and teacher workshops, and has also been an artist in residence in urban and suburban schools throughout New England infusing stories and songs into curricula such as whole language, history, environmental studies, and cultural understanding.
The ancient arts of storytelling and folk singing have long been used as teaching tools. Ann Shapiro pairs traditional
and contemporary material with conflict resolution training exercises, and leads students in creating original songs and stories. Folk tales, honed over many years of telling by many different tellers, have a powerful effect on the listener, and at the same time are entertaining. Ballads have spread and preserved the news through music, and students enjoy bringing that process up to date with current events and the use of modern instruments like the keyboard synthesizer.
Because of the violence that permeates the lives of today's children on television, in video games, in current events, and in their own neighborhoods and homes, there is a need for schools to educate students about alternative ways of dealing with conflict. The arts can provide this in a way that is not "preachy" and involves students in the creative process. Many times "hard to reach" students respond with enthusiasm. Ann tells stories and sings songs from around the world that show people in conflict and the variety of ways that they solve their problems. Some of her material is serious, some humorous, and helps students to examine many aspects of human behavior. Theater games, role plays, and discussions promote an understanding of different points of view.
Students also create their own stories and songs to express their personal experiences with conflict and their view of the world they live in. A conflict resolution program that includes the arts also works well in school systems that are dealing with cultural diversity and can help with the healing and understanding that must take place before people can work together for a better world.
Ann's presentations can be planned to add another dimension to existing programs or can be used as an introduction to conflict resolution concepts.
Fees depend on the location of the performance and audience size, but are always reasonable. Discounts are available for multiple bookings. Special rates for libraries!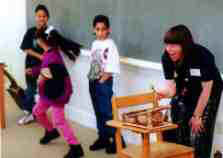 Ann Shapiro's style, both on stage and in the classroom, involves the audience. From singing along and impromptu "foo-foo" bands to participatory storytelling with universal themes, her programs teach as well as entertain.
COME ON AND SING ALONG!
Audiences of all ages participate in singing along, hand clapping, and toe-tapping. A wide variety of instruments accompany the songs.
LET'S CLEAN UP OUR ACT
focuses on environmental concerns from garbage and recycling to preservation of critical habitat. This show is an excellent springboard for classroom discussion.
"Let's Clean Up Our Act" is also available as a cassette with an accompanying booklet of related activities.
IMAGINE MENAGERIE
is a collage of stories told with music and humor as integral parts of the telling. Augments whole language curricula and bilingual programs.
FROM SEA TO SHINING SEA
traces the restless American spirit through songs of emigration, immigration, and migration. Also included are songs and stories that people brought with them from other countries and their variants as they became Americanized.
HOLIDAY HODGE PODGE
can include songs and stories for a variety of occasions.
IN THE GOOD OLD COLONY DAYS
includes Early American songs, stories, games, and instruments.
I'M GONNA WRITE A SONG
is available as a workshop only. Students write original lyrics to familiar melodies while learning rhyming schemes and how songs can tell the stories of current events.
HOME FIRES
takes a look at families: sibling rivalry, the generation gap, role models, stereotypes, and just plain learning to get along with the people we live with.
Other programs available are: TAKE THIS HAMMER (work songs) HEROES, HEROINES, AND OUTLAWS WE SHALL NOT BE MOVED (protest songs) THIS LAND IS YOUR LAND (songs of Woody Guthrie) PIONEERS STORYTELLING & MUSIC FOR CONFLICT RESOLUTION FOR THE RECORD (residency with a fund-raising recording as a final product) AMERICAN STREET GAMES AND PLAY PARTY GAMES.
Ann Shapiro often performs with her husband, Tom Callinan . The programs listed above can be performed by Ann as a solo artist, or in-tandem with Tom.