ANN SHAPIRO, a Master Teaching Artist on the Connecticut Commission On Culture & Tourism's roster, and Executive Director of the Connecticut Storytelling Center is better known as "Mrs.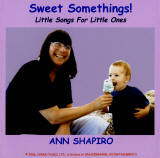 Ann", or "Ann Shapira", or even "Aunt Shapiro" by some of her young students and proteges. But for three special youngsters, she holds the most coveted sobriquet: "Grannie Annie". For all of her adult life, and for years before that, Ann has worked as an Arts-In-Education specialist, mostly in the Northeastern United States, but actually from Maine to Florida - and beyond. She has presented thousands of assemblies and classroom workshops in her career, and she was honored in 2005 with the prestigious "ORACLE" Award from the National Storytelling Network. Ann's repertoire of traditional songs/tunes and original compositions is both deep and wide. This collection of songs was recorded especially for the preschoolers and their parents and teachers that Ann works with on a regular basis. These are their most requested songs. This recording is produced very simply with just Ann's voice and guitar or ukulele, just as the children are used to hearing the songs when Ann is with them. Verses and movements to the songs can be added. Join the fun and make up your own!
Ann Shapiro (vocals + sound effects) is self-accompanied on acoustic guitar + ukulele.
1 Jambo 10 Jennie Jenkins
2 Cousin Peter 11 Down By The Station
3 If You're Happy 12 Mr. Knickerbocker
4 I'm Not Scared 13 Apples + Bananas
5 People On The Bus 14 Thumbkin
6 Uncle Jessie 15 Tiny Little Babies
7 Monkeys + The Alligator 16 Jim Along Josie
8 Old McDonald's Farm 17 Damper
9 Clean-Oh 18 Hokey Pokey