Tom Callinan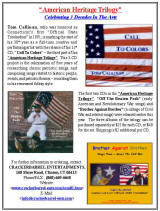 Tom Callinan, Connecticut's renowned multi-faceted entertainer (and first Official State Troubadour!) – has hundreds of songs, tales, and tunes in his repertoire, plays up to twenty (20) musical instruments from the string, wind, and percussion families, and "... is an expert at getting the audience to take part in the performance." – [The Evening Gazette, Worcester, Mass.]
General and custom shows are available throughout the year for audiences of all ages
Special Holiday & Year 'Round Thematic Programs:
January:
"Folk-It!" (Past & present folksongs for North American Folk Music Month)
February:
"Is It Love Or Only Tachycardia?" (Valentine's Day songs)
"POTUS" (Patriotic songs & tunes for Presidents Day)
"Fat-Tuesday Tunes" (Merriment from Way Down Yonder In New Orleans)
March:
" A Little Bit o' Erin "
April:
"Environmental Hootenanny" (Songs for Earth Day/Arbor Day)
May:
"'M' Is For The Many Things She Gave Me" (Mothers Day songs & tunes)
"Keep The Home-Fires Burning" (Patriotic songs for Memorial Day)
June:
"Hey, Daddy! ..." (Fathers Day songs & tunes)
"The Grand Old Flag" (Patriotic songs & tunes for Flag Day)
July:
"This Is My Country" (Patriotic songs & tunes for Independence Day)
August + Throughout the Summer:
"Surf's Up!" (Sea songs & chanteys for beach parties & clambakes)
September:
"If I Had A Hammer" (Work songs for Labor Day)
October:
"Jawol!" (German songs for Oktoberfests)
"I'm Not Scared!" (Spooky songs & stories for Halloween)
November:
"Thank A Vet!" (Patriotic songs for Veterans Day)
"We Gather Together" (Autumn/harvest songs for Thanksgiving)
December:
"Miss Houligan's Christmas Cake" (Celtic Christmas songs & tunes)
"Parties Make The World Go 'Round" (Multi-cultural tale with songs)
"For Auld Lang Syne" (New Year's Eve party songs)
Custom tailor-made programs are also possible, depending on the complexity of the assignment, and enough "lead-time" is provided for research (where applicable).