Tom Callinan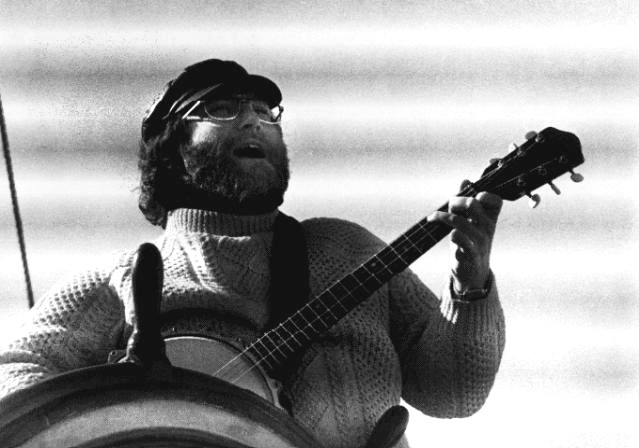 photo by David Dodge
A LITTLE BIT OF ERIN
Irish & Irish-American Songs, Tales, And Tunes
From Here And There - Then And Now
Drawing on his ethnic heritage, two summers in Ireland, over 25 years as a performing member with THE MORGANS, Connecticut's Premier Irish Band, and with an extensive repertoire of: folksongs, stories, and popular songs and tunes from a variety of times and places on both sides of the Atlantic, Tom Callinan has constructed a participatory program of diverse songs, adaptable to audiences of all ages.
Adept at approximately twenty different musical instruments from the wind, string, and percussion families (penny whistle, spoons, bodhran [traditional Celtic frame drum], ocarina, guitar, banjar, among others), Mr. Callinan uses his considerable talents to enchant his audiences with tales and tunes of The Emerald Isle. Included in the program is material that reflects the whole range of human emotions, from the cradle to the grave: work songs, play songs, songs and stories of coming and going, of youth and old age, courtship and marriage, emigration, immigration, and migration, the famine, the "troubles", nationalism, Mr. Callinan's original compositions, other contemporary selections, as well as old favorites and ballads that can leave a lump in one's throat. The program also includes lively selections and tunes that get the hands clapping, and the toes tapping.
As with all of his presentations, audience participation is an integral part of each performance. Choruses and/or appropriate hand gestures will be taught, and Tom's engaging and informative narrative style will introduce each song or story with a brief explanation of its origin, purpose, etc.
Three albums: "The Rambler From Clare", "Shamrock Roots", and "A Little Bit o'Erin" are available for purchase at $17. each for CDs or $12. each for cassettes (price includes shipping).
Rates On Request