Father/Mother & Child Reunion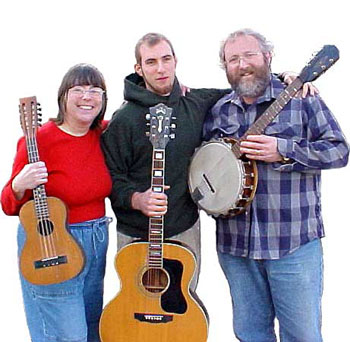 In honor of January's designation as "Folk Music Month" in North America, coastal Connecticut's renowned husband and wife duo Tom Callinan and Ann Shapiro, were joined by their son Emmett to lead a community sing at the Blackstone Public Library in Branford on Sunday, January 19th. Their program consisted of American folksongs and other familiar pieces of Americana that fall slightly outside the realm of folksongs. Formerly three-fourths of "The Kith & Kin Family Band", this was the ensemble's first performance since 1985. Lyric-sheets were distributed to the attendees; audience auditions were definitely not necessary. All that's required was a love of music or a sense of curiosity about music from by-gone eras that still strikes a chord with contemporary folk. The trio was self-accompanied on an array of musical instruments from the string, wind, and percussion families.
For background: since 1973, Tom has performed with "The Morgans", New England's highly acclaimed folk and sea-songs band. He has managed the ensemble since 1977. Ann was a co-founder of Jabberwocky, a children's theater and comedy duo which flourished in the Northeast between 1979-'89. In 1982, Tom and Ann co-founded Crackerbarrel Entertainments, an agency dedicated to providing quality educational, family, and inter-generational programs in the Northeast and beyond.
As a performing duo, Tom and Ann are listed in the Connecticut Commission on the Arts' Directory Of Performing Artists And Master Teaching Artists. In addition, Ann is Executive Director for The Connecticut Storytelling Center, in residence at Connecticut College in New London. In 1991, Tom was designated Connecticut's first "Official State Troubadour" by the General Assembly. As Master Teaching Artists, Tom and Ann regularly conduct school residencies and present assembly programs which integrate music and storytelling into a variety of curricula throughout the eastern seaboard of the U.S.A.
Emmett, currently on a one-year's leave-of-absence as a 3rd year film major at Syracuse University's Newhouse School of Communication, is immersed in music … heavy-metal to be exact. He has just returned from a two-month European tour as a videographer with "Manowar", an internationally acclaimed metal band. In the January 12th concert, Emmett will blend his folk roots with his preferred form of musical expression on both acoustic and electric guitars to produce a fusion-folk effect to show that folk music is still alive and malleable. For the squeamish, please note: ear-plugs will not be necessary.
Tom and Ann have produced a number of albums together, as solos, and with other folks as well. Their recordings are available in their concerts, or they may be ordered via their website's catalog at: www.Crackerbarrel-Ents.com