Soundings For The Whale
A Commemorative Educational Album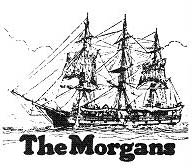 In 1885, during Connecticut's 250th Anniversary, New London was still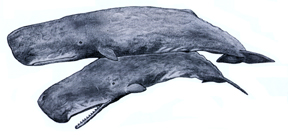 actively engaged in the whaling trade, which for a time was the third ranking
industry in New England. A century later, Connecticut's 350th celebration
was joined by another milestone - the 10th Anniversary of the designation of
the Sperm Whale (physeter macrocephalus) as Connecticut's "Official State
Animal".

Connecticut's 100-year turnabout from a whale-hunting state to a
whale-preserving state is the subject of a commemorative recording entitled
"Soundings For The Whale". Produced by MORGAN PRODUCTIONS, the album
features the juxtaposition of traditional whale hunting songs alongside
original preservationist songs, performed by THE MORGANS, whom Mystic Seaport
has called "...understandably the most popular group presenting sea music in
the New England area."

Deeply involved with the "Save The Whales" campaign since the early 1970's,
THE MORGANS have performed at numerous concerts, fundraisers, nature
symposia, on whale-watching trips, in schools, libraries, and museums for
tens of thousands of people of all ages. Integrating the past with the
present continues to be a primary focus of their musical presentations.
"Soundings" is available in CD or cassette formats with an accompanying
educational booklet with lyrics to all of the songs.
Side A
The Song Of The Whales
The Diamond
Farewell To Tarwathie
Soon May The Wellerman Come
The Weary Whaling Grounds
Way, Hey, Roll And Go
Side B
The Greenland Whale Fisheries
Clouds
In Search Of 'THE WHALE'
Rolling Down To Old Maui
Rolling Home To Old New England