The term "heaving down" describes a ship being keeled-over at dockside (see * photo A) using a number of capstans and strong lines. It enabled shipwrights to make repairs to a ship's hull, one side at a time without necessitating the vessel's removal from the water. A vessel in that state was said to be "hove down", not to be confused with "hoe-down". That is a shindig or party wherein people literally put their hoes down for frolicking, dancing, etc. "Down and out" refers more to destitution than a cessation of operations, but the play on words for what may well be our final recording since our founding as a duo in 1971 was irresistible. It may also have come from watching too much of the game show "Wheel Of Fortune" where one well-known phrase sometimes leads into another. Photo B of a dismasted hulk, which was used on the back cover of the album, definitely fits the " ... & Out" concept.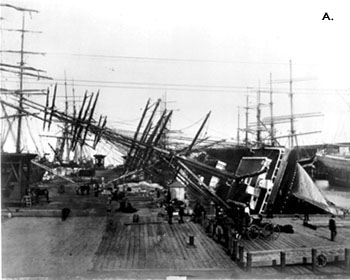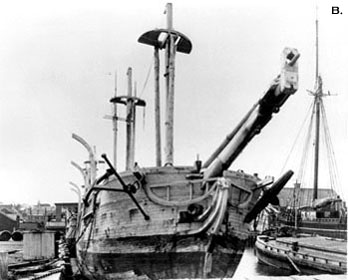 Whether this is actually their last album or not, The Morgans performing career shows no signs of letting up any time soon. With 31+ years as a work-in-progress, they have long been known as Connecticut's premier Irish, folk, & sea-songs ensemble. Integrating the past with the present continues to be a primary focus of their musical presentations.

* Notes about this exact photo, found in the archives of The Maritime Museum, San Francisco Maritime National Historical Park state: "The ship LUCILE hove down at Union Street Wharf in San Francisco for replacement of her copper sheathing. This is an age-old method of exposing a ship's bottom for repairs. Large tackles are attached to the masts and the ship is simply pulled over as far as it will go. Reinforcing timbers are rigged on the downside to take some of the strain off the masts. This technique was becoming less common toward the end of the 19th century as ships increased in size, but when it could be done, it was much cheaper than dry-docking."
The Players: Don Sineti - lead and back-up vocals, 5-string banjo; Chris Morgan - harmony vocals, guitar, button accordion; Mark O'Donnell - lead and harmony vocals, guitar, harmonica; Tom Callinan - lead and harmony vocals, 6 + 12-string guitars, pennywhistles, spoons, bones, bodhran, conga drum, dollar bill (#F32253298C, Series 1999... if you happen to find it in circulation and turn it in to Morgan Productions, you'll get a FREE Morgans' album of your choice); Tony Morris - harmony vocals, fiddle, viola, mandocello, pennywhistles, bodhran, acoustic bass; Steve Roys - harmonica, bodhran, button accordion, bell, jew's harp, back-up vocals; Gary Buttery - tuba and acoustic bass guitar.

Credits:

Produced by MORGAN PRODUCTIONS
[Tom Callinan - Business Manager and Executive Producer]
Recorded, Mixed, & Mastered by Phil Rosenthal, American Melody Records, Guilford, CT
Cover photos courtesy of John Nesko, The Chart House Restaurant, Chester, CT.
Morgans logo, artist unknown
Typesetting & layout, by Crackerbarrel Entertainments, Clinton, CT
Insert & tray printing by Royal Printing Service, Guilford, CT. Thanks to Susan Weady.
CD duplication by Bob Nary, Doc Rock Digital, Clinton, CT