Home Grown Articles - U.S.S. Connecticut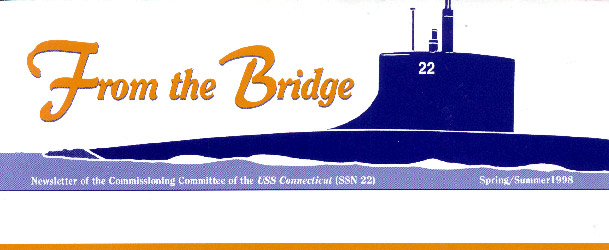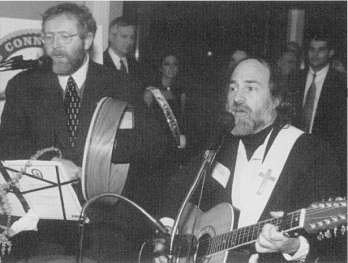 STATE TROUBADOURS Tom Callinan (left) and Bill Pere.
Troubadours first emerged, singing their lyrical poems, just after the turn of the last millennium in the midst of the Middle Ages. Starting in France, they soon were everywhere throughout Europe, singing songs of heroism and love, bringing news of great deeds and accomplishments. The troubadours became a vital part of the arts and cultures of the times, passing these songs and stories from generation to generation.
It is fitting, then, that two of Connecticut's own troubadours have composed a song to honor the USS Connecticut.
Tom Callinan and Bill Pere, two of Connecticut's official state troubadours appointed by the state Commission on the Arts, have put the finishing touches on a recording of their song, "USS Connecticut".
The song pays homage to technology, but reminds us that it is people who have built the USS Connecticut and people who will guide her for the generation to come.
When the idea of a song was introduced at a USS Connecticut Commissioning Committee meeting last June, committee member John Stratton immediately thought of recruiting his friend and Pfizer coworker, Bill Pere, to help. Pere contacted Tom Callinan, and the process was underway. Pere and Callinan met several times over the summer and into the fall to compose lyrics and music for the song.
Although as troubadours they share certain common interests and philosophies, the differences in their, styles would make this collaboration all the more interesting: Pere is technologically and orchestrally oriented while Callinan prefers a more acoustic, traditional folk approach.
The song was ready for its initial public performance in February 1998 at the Nautilus Museum reception for USS Connecticut crew and many other naval officers and area business leaders.
Just before they began, a klaxon sounded, calling everyone's attention. Both Pere and Callinan knew then that this exact klaxon sound would make an effective addition to the song when they recorded later in the year. They also knew they needed a realistic but reasonably melodic sonar sound to punctuate the mention of sonar in the first verse.
"One thing I've learned is that there's no such thing as a dead end," said Callinan, who undertook the "sonar" search. He contacted friends who had USS Connecticut song written and recorded by troubadours worked at the former Underwater Sound Lab, which led him to other friends at Sonalysts in Waterford, and they had the perfect sound. Pere and Callinan held a contest for a prospective cover design and selected the one painted by Ledyard artist Amy Francis-Renaldi. The cover art is a dramatic portrait of the submarine surfacing in the middle of a stylized U.S. flag shaped like the State of Connecticut.
About the Troubadours
Both Pere and Callinan have a "no dead ends" philosophy when it comes to their art. And both are committed to using their own talents, and tapping the musical and artistic talents of others, to promote social and environmental improvement. In fact, these beliefs have characterized much of what both of these troubadours have already accomplished in their lives.
Callinan was named Connecticut's first official state troubadour when the program was created by the Connecticut Commission on the Arts in 1991. He has been a full-time creative artist and performer since leaving junior-high-school teaching in 1977 and currently gives more than 200 concerts a year all along the East Coast. He has received several awards from the Connecticut Songwriters Association and has performed at the John F. Kennedy Center for the Performing Arts and the National Theatre in Washington, DC and has been featured on ABC TV's "Good Morning, America," Peter Jennings retrospective "Images of the 80s," PBS's "Shining Time Station," CNN's "Earth Matters," and many others. As part of his work with the nonprofit group, National Week of the Ocean, he received a grant to present programs to more than 6,000 middle school students in Florida. When named state troubadour, he decided to use his one-year tenure to promote environmental causes, particularly those involving Long Island Sound and the oceans. He also established an archive of songs about Connecticut, a project he continues with the Connecticut Historical Society. He and his wife, Ann Shapiro, manage Crackerbarrel Entertainments in Clinton; he has produced a total of 16 recordings: six solo albums and 10 with groups with which he performs. Collaborating on the creation, performance and recording of "USS Connecticut" has been "a tremendous experience," he says.
Pere was named the official state troubadour for 1995. He decided to use his tenure to bridge art and science and to demonstrate that the two are powerful complements of each other. Pere, a senior research scientist at Pfizer, gives several dozen performances a year and donates all proceeds to local organizations that fight poverty and hunger, including the one he founded in 1989: Local United Network to Combat Hunger (L.U.N.C.H.) . L.U.N.C.H.'s fund-raising events and their eight recordings have raised well over $150,000, all of which has been donated to help hundreds of thousands of people at area shelters, soup kitchens and group homes. The power behind Pere's all­volunteer program is the involvement of children, showing them how music can be used to help others. To date, more than 750 children have participated in his programs. A musician and songwriter since he was a teenager, Pere has received many awards and honors including being named Connecticut Songwriter of the Year in 1983 and 1993, the first recipient of the Connecticut Renaissance Award and the recipient of a citation from the Connecticut General Assembly in 1997 for his work with L.U.N.C.H. Pere, too, was honored to participate in the creation of the "USS Connecticut" song and considers it another way, "to use power of popular song to bring interesting events to public awareness."
The recorded version of "USS Connecticut," complete with klaxon sounds from the Nautilus , is available on cassette or compact disc. For more information, contact Tom Callinan at Crackerbarrel Entertainments, 860-669-6648, Email: crackerbrl@aol.com; or Bill Pere at Local United Network to Email: WDPSongs@aol.com .
Local United Network to Combat Hunger (Bill Pere) *
Connecticut Songwriters Association, Inc. *
*Please Note: These links will take you to other websites; go ahead and have fun; however, when you want to return to Crackerbarrel Entertainments, just click on the Back button on your web browser!
WEDNESDAY, JANUARY 21, 1998
NEW LONDON SERVING EASTERN CONNECTICUT SINCE 1881
VOL.117, No. 204

'The ships that bear our name' will be something to sing about
By ROBERT A. HAMILTON, Day Staff Writer
Connecticut salutes you
you slip beneath the foam,
Our name and hearts go with you
Until you're safely home.
In this "Land of Steady Habits,"
Some things stay the same;
The pride of folks who build and sail
The ships that bear our name...
Groton - So Goes the refrain to "U.S.S. Connecticut," the song troubadours Bill Pere of Mystic and Tom Callinan of Clinton have composed for the submarine of the same name that is under construction at Electric Boat.
"It's important to commemorate important events in our state, both past and present," Pere said. "And with all the focus that is going to be on the ship, I wanted something that would place the emphasis on the people who designed it, the people who built it, and the people who will sail it. It's a very people-oriented song."
The two songwriters have also begun a contest to come up with cover art for the cassette tape they expect to issue after the tune is recorded next month, Callinan said. The contest is seen as a way to get more people interested, and involved, in the commissioning of the Connecticut, the second of the Seawolf-class submarines EB is building.
Callinan was the state's first official troubadour, in 1991 and 1992. Pere was the fourth.
"Some people say I've written more songs about Connecticut than anyone in history," Callinan said. "I don't know if that's true or not, but I'm willing to accept the title."
The Connecticut, which is scheduled to be delivered to the Navy late this year, is the fourth warship to bear the state's name. Pfizer Chairman William C. Steere was appointed chairman of the Commissioning Committee by Gov. John G. Rowland, whose wife Patricia Rowland is the ship's sponsor.
Commissioning Committee member John Stratton, who works with Pere at Pfizer, said he knew Pere was a songwriter and approached him a few months ago about doing a song specifically for the commissioning. In the past, many ships have had their own commissioning songs.
Stratton said the committee has several projects in the works designed to promote awareness of the Connecticut commissioning.
Pere said he called Callinan, whom he has worked with in the past, "and we got together a few times and worked out the song."
"U.S.S. Connecticut," sung, to the tempo of a march, has three stanzas, with lines such as: "Her hand-picked crew was chosen for the task; With inner strength and well-honed high-tech skills; Together they have learned to work as one; They've trained to fight, but pray they never will." The song will go to the Commissioning Committee for approval in a couple of weeks, Stratton said.
Pere said until the committee officially approves the song, he's not sure what the recording arrange-ments will be, but he and Callinan would probably publish it themselves if they have to.
"Whether it makes a penny or not is not really important to me," Pere said. Any money he makes off music typically goes to local social service agencies or nonprofit groups, he said.
"I like to use music as an inclusive vehicle, allowing as many people as possible to participate," Pere said. "So this song, and the art contest, this gives people in the community chance to contribute."