Tom Callinan a.k.a. "Terrible-Tom, The Pirate"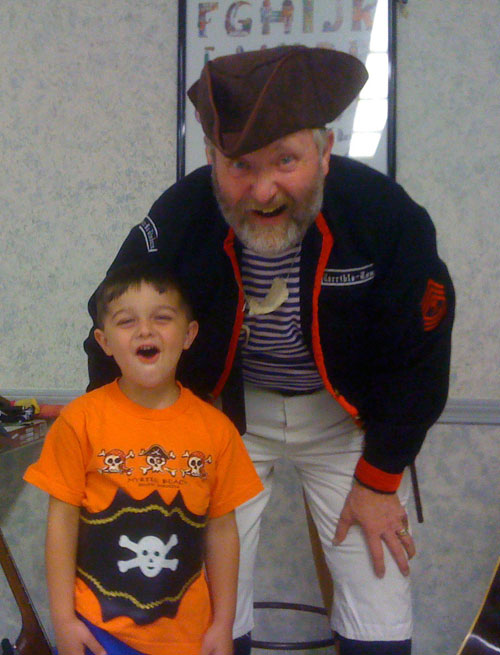 Sea Songs, Chanteys & Nautical Lore: Past & Present

No need to feel shy about being a non-musical landlubber. Former Connecticut
junior high school teacher, turned professional Arts-In-Education specialist,
TOM CALLINAN, will perform and teach: sea songs, chanteys (work songs),
"save the whales" songs, and a variety of songs about the natural world,
especially as they relate to the marine environment.

Learn some singable choruses to old sailor songs to pass on historical (and
sometimes hysterical!) perspectives of the sea, marine-life, and maritime
life to today's students. Pull imaginary halyards to the tune of "What Do
You Do With A Drunken Sailor?", or weigh anchor by using a simulated capstan
and working cooperatively while singing along with "Blow The Man Down",
"Paddy West", etc. Envision sailors' misperceptions about whales through a
couple of humorous ditties in which mariners were swallowed by leviathans.

Learn to play the spoons, and join in with an assortment of songs about the
comings and goings, the shipwrecks, the pirates, the water pollution, the oil
spills, and the notorious trash barge from Islip, Long Island, NY. Adaptable
for audiences of all ages, teachers, and relevant to many curricular areas.

TOM's powerful presentation of sea chanteys (work songs) , is punctuated by
the primal sound of the bodhran (traditional Celtic frame drum). Chanteys
are taught, incorporating a student-operated prop capstan, to raise a small
anchor on-stage. Other student-volunteers raise and/or furl a simulated sail
via halyard and/or bunting chanteys. Participatory sea songs employ choruses
sung by mariners, past and present; fo'c'stle ballads recall the days of
wooden ships and iron men. Instrumental selections, using a variety of
string, wind, and percussion instruments, get the feet tapping and the hands
clapping. His original "Save The Whale" songs highlight his concern for
endangered marine mammals and the fragile marine environment.

TOM was designated Connecticut's first "Official State Troubadour" by
legislative action in 1991. In 1995, he was selected as a Master Teaching
Artist by the Connecticut Commission on the Arts.

In addition to performing as a solo artist, TOM is a member of THE MORGANS,
one of the Northeast's most popular and enduring folk and sea chantey bands.
As a solo artist or with the complete ensemble, he is available year-round
for concerts, classroom workshops, and/or teacher-training. To date, TOM has
appeared on all eight albums released by THE MORGANS on their own MORGAN P
RODUCTIONS label (see catalog). He has also released a solo cassette/CD
entitled "Saturday Night At Sea"(see catalog).

American Heritage Series
Participatory Programs For All Ages