SHORELINE REGION
Clinton, Middlesex County
By CASEY A. WALDRON, Harbor News Staff Writer
January 24, 2002 -Harbor News
A Connecticut Grown Musician - Tom Callinan Is Person Of The Week January 24, 2002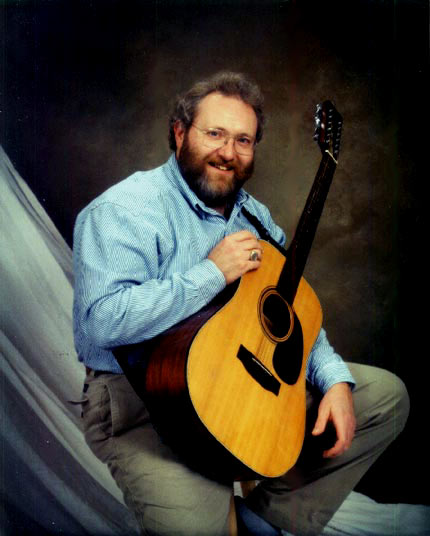 CLINTON -- He can play the guitar, banjo, spoons, bodhran (drum), penny whistle, bones, and various other instruments. He has entertained crowds up and down the eastern seaboard, in Canada, Barbados, and even at the University of Notre Dame. He is Connecticut's first official state troubadour and he lives right here on the shoreline. Tom Callinan has been performing music since he was 10 years old, when he first learned to play the clarinet. A couple of years later he picked up the saxophone, and the rest is history. He now has a lengthy laundry list of musical instruments that he is able to play, and he does so on a professional level.
But it wasn't always that way. Tom received his bachelor's degree in English, with a minor in music, from Central Connecticut State University. During his college years he enlisted in the Marine Corps and served as a stateside Marine during the Vietnam War. After graduating from college, Tom taught junior high school English and reading in East Hampton from 1973 to 1977, before leaving that position to attend Wesleyan University. There, he completed his Master's degree in Liberal Studies with a music concentration.
"It was great," he says. "My culminating project was a concert."
Tom grew up in Middletown and moved to Clinton in 1978. He says that his parents had a summer cottage in town and, upon visiting it one day, he saw that a house was for sale only a half of a mile away. He knew the owner, negotiated a deal, and moved in. He now lives close to the cottage and co-owns it with his siblings. Tom says that he loves living in Clinton.
"It's a great town," he says.
It has been 25 years since Tom left teaching to write and perform songs, making music his full-time profession. Tom's music is "folk music based" with Irish and British Isle traditions. He has self-produced seven albums, including two of Irish music, one of sea songs, one sing-a-long, and one with a political satire theme.
His most recent album commemorates the 10th anniversary of his designation as Connecticut's first "Official State Troubador." It is his second album with a Connecticut theme and is called "Connecticut Grown." It features 23 songs with names such as "Connecticut's Lifeline, I-91," "Christmas on the Shoreline," and "Thumbs Up For Connecticut."
Tom has performed at the John F. Kennedy Center for the Performing Arts and the National Theater in Washington, D.C. He has appeared on PBS's "Shining Time Station," ABC's "Good Morning America," CNN's "Earth Matters," and on public radio stations nationwide. Tom performs about 300 show per year.
"It's been an interesting career," Tom says.
Tom says that he has had many great experiences during his performances. He has watched Alzheimer's patients perk up upon hearing certain songs and even watched as an elderly woman with two prosthetic hips threw aside her walker to dance to "This Land Is Your Land." Tom has performed for blind people who are able to better connect to the music by touching the instruments to feel their vibrations.
"It's really amazing when you see it touch people like that," he says. "It just feels really good to do that for people."
He also performs at schools, libraries, historical societies, park and recreation centers, community concerts, senior centers, and for AARP groups.
"It's fulfilling work," Tom says. "It's not boring."
Tom occasionally performs with his wife, Ann Shapiro. Ann is the executive director of the Connecticut Storytelling Center at Connecticut College in New London. Tom says that her demanding job only allows her to be his part-time musical partner, but that the two are equally devoted to their music.
"We're consumed with the arts," he says.
Tom and Ann have been married since 1980 and have one son together named Emmett, who is a junior at Syracuse University. The couple is proud of Eli, Ann's son and Tom's stepson, who is a successful chef in California. Eli and his wife are planning a move back to New England, which is music to Tom and Ann's ears. Other than the family's East Coast reunion, Tom says he looks forward to doing more shows, to writing new songs, and to kicking off his 19th annual tour in Florida. He will also keep performing with his band, The Morgans, which has been together for 31 years.
"I will continue with my shows and with writing new songs as I get the inspiration," he says. "I have more albums that I want to do but when you are self-produced you have to weigh that with the amount of money you have."
Tom's "Connecticut Grown" CD, which is sure to be a hit among Nutmeggers and lovers of Connecticut alike, is available for purchase through the mail or through his website, www.crackerbarrel-ents.com. For further information, visit the website or contact Crackerbarrel Entertainments, 168 Shore Road, Clinton 06413.