Tom Callinan's "Call To Colors" CD - Inspired By 9/11
Five years after the September 11, 2001 terrorist attacks on The World Trade Center, The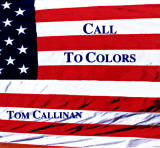 Pentagon, and United Flight 93 in, Tom Callinan, a Vietnam-era Marine, has released his latest CD, " Call To Colors ". This project is the culmination of five years of composing songs on patriotic themes, plus researching classic patriotic songs, and recording them in his well-known folksy style.
A folksinger, songwriter, storyteller, multi-instrumentalist, and Arts-In-Education specialist, Tom responded to the 9/11 atrocities with two songs, "These Colors Just Don't Run!" and "Heroes In The Sky" on September 13 th of that fateful year. In 2002 Tom joined American Legion Post #103's "Veteran Of The Month" program to honor deceased shoreline veterans. The title song, "Call To Colors", composed in 2003, musically chronicles the choreography of that monthly flag-raising ceremony on the Westbrook Green. "War Dogs", written later that year, is dedicated to dog-handlers past and present, and our oft-forgotten four-legged troops. And "Thank A Vet" was inspired by Tom's first performance at the State Veterans Home and Hospital in Rocky Hill, CT in 2004. Those five, plus eleven other classic patriotic songs, (including all four verses of "The Star-Spangled Banner") , round out this All-American album.
After being honorably discharged from the Marine Corps, Mr. Callinan taught junior high school in

East Hampton, CT. Since 1977 the creative and performing arts have been his full-time profession. Among thousands of performances in the United States, Canada, the British Isles and Ireland, and Barbados, his credits include: The John F. Kennedy Center For The Performing Arts and The National Theatre in Washington, D.C. and the National Storytelling Festival in Jonesborough, Tennessee. He has appeared on ABC-TV's "Good Morning America" and the late- Peter Jennings' retrospective, "Images Of The 80's"; on CNN's "Earth Matters" environmental program; and on PBS' children's show, "Shining Time Station", starring Ringo Starr, among others.
In 1991 Mr. Callinan was honored as Connecticut's first "Official State Troubadour" via legislation passed by the CT General Assembly, and signed into law by then Governor Lowell P. Weicker, Jr. Excerpts from two of his original songs were included on an Emmy Award-winning documentary, A Connecticut Yankee In Red Square , produced by Connecticut Public Television. Two other songs were included in the "We Like Kids" Songbooks , distributed throughout the United States. To date, he has produced nine solo albums on his CRACKERBARREL ENTERTAINMENTS label, and he has appeared on over a dozen other albums with a variety of artists and ensembles.