My Country, ' Tis Of Thee


The son of a World War II soldier and the secretary of the Middletown, CT Office Of Selective Service, Tom Callinan was raised in American patriotism from Day-One. From his early days in Boy Scouting; to the U.S. Marine Corps during the Vietnam War; to serving as a member of American Legion Post #103 ' s (Westbrook, CT) honor guard to recognize deceased shoreline veterans; and being a member of Thames River Detachment #1334 of the Marine Corps League – Tom has always gravitated to songs that celebrated America ' s past – from colonial times to the present.
His repertoire of Americana, past and present, includes all sorts of folk, sea, work, and patriotic songs, tunes, and tales, which he delivers in an entertaining, narrative style. He can sing all four verses of " The Star-Spangled Banner " , as well as " Hail Columbia " , the song that served as the unofficial national anthem from 1798 to 1931.
For over three decades as a full-time creative and performing artist, he has specialized in Arts-In-Education programming and intergenerational entertainment. Among thousands of performances in the United States, Canada, the British Isles, Ireland, and Barbados, Tom has also appeared on ABC-TV's "Good Morning America"; on CNN's "Earth Matters" environmental program; and on PBS ' children ' s show, "Shining Time Station", starring Ringo Starr … among others. Excerpts from two of his original songs were included on an Emmy Award-winning documentary, A Connecticut Y­ankee In Red Square , produced by Connecticut Public Television. Two other original compositions were included in the "We Like Kids" songbooks, distributed throughout the United States.
He has performed at: the Fraunces Tavern in New York City, the site of General George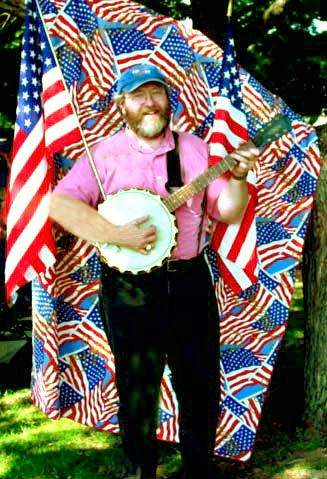 Washington ' s farewell to his officers; Mystic Seaport; Sturbridge Village; the National Theatre in Washington, DC; the Kennedy Library in Boston; and at schools, libraries, and museums from Maine to Florida. In 1999 he was selected to represent the state of Connecticut at the John F. Kennedy Center for the Performing Arts ' Millennium Stage " State Days Series " in Washington, DC., and he was also a featured teller at the National Storytelling Festival in Jonesborough, Tennessee.
Since September 11, 2001 Tom has written a number of original patriotic songs: " Heroes In The Sky " ; " These Colors Just Don ' t Run! " ; " Thank A Vet " ; " Call To Colors " ; " War Dogs " ; and " The Flying Dutchman "; several songs about the War of 1812: " Oliver Hazard Perry, The Hero Of Lake Erie "; " The Essex Raid Trilogy " [ " Burning Questions At Potopaug " ; " Save The Sloops & Schooners " ; and " Pine, Oak & Tar " ]; and he has released his "American Heritage Trilogy" (see below for details) .
In 2008 he performed original songs at the dedication of two separate monuments to Connecticut ' s Civil War regiments: the 9 th Volunteer Infantry at the National Battlefield Park in Vicksburg, MS; and the 29 th Colored Volunteer Infantry in New Haven, CT. In 2009 his performance was the kick-off to the "­­­­­­­Connecticut At War" conference at the State Library in Hartford. He sang his original song "Thank A Vet" in 2009 at the dedication of the Korean War Monument at the State Capitol, and in 2012 at the " Welcome Home Vietnam Veterans " event at the State Armory – both in Hartford, CT .
Tom's "American Heritage Trilogy" includes: "Brother Against Brother" (a collage of Civil War and related songs); "Off The Beaten Path" (early American and Revolutionary War songs); and " Call To Colors " (5 original + 11 patriotic songs). The three albums of the trilogy can be purchased separately at $15 for each CD, or $40 for the set. Shipping is additional. For further information, contact CRACKERBARREL ENTERTAINMENTS: (860) 889-6648 or < www.crackerbarrel-ents.com >.