Apollo 11, 50th Anniversary


In honor of the 50th Anniversary of the first
moon-landing, Tom Callinan has developed a participatory program about space, that draws on his extensive repertoire of songs (including
original compositions), stories, and a display of memorabilia related to that, and other, historic achievements in space. Ever since hearing President John F. Kennedy's May 25th 1961 speech before a Joint Session of Congress, announcing his goal of sending an American safely to the Moon before the end of the decade,
Tom has been fascinated with space exploration.
Intergenerational in scope, Tom's "Space
Challengers" program incorporates songs
like "The Five Famous Astronauts In The
Race To The Moon".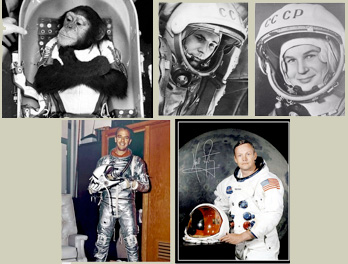 • Top row, left to right:
Ham, The Space Ape;
Yuri Gagarin; Valentina Tereshkova.
• Bottom row, left to right:
Alan B. Shepard; Neil Armstrong.

"Pitch, Yaw, And Roll" (the 3 principal axes of a spacecraft in flight), put to the tune of
"Shake, Rattle, And Roll", encourages volunteers from the audience to mimic those
attitudes, while rocking-out, to the music.
The refrain of his 1987 tribute to the loss of the Space-Shuttle Challenger acknowledges that despite the known and unknown risks, they were:

"Ordinary people, living out their dream,
Combining all their talents, and working as a team.
They knew life's a challenge, where we all must do our best;
Always looking forward, on behalf of all the rest."

To thank him for composing that song, Tom received a note of thanks from June Scobee,
widow of the Challenger's commander.
An assortment of Apollo 11 photos, patches, and other historical memorabilia will be on
display, and a table-top, simulated astronaut will be available for photo-ops, following the program.

For over 40 years, Tom has been as a full-time creative and performing artist (over 200 performances per year). His warm and inviting performing style has brought audiences of all ages into his performances with catchy choruses, interesting anecdotes, and an assortment of rhythmic instruments he shares with volunteers. Special attention is paid to passing on the age-old fundamentals of spoon-playing to contemporary folk.

Mr. Callinan's media credits include: ABC-TV's "Good Morning America"; CNN's
"Earth Matters" environmental program; and PBS' children's show, "Shining Time
Station"; CPTV's "Positively Connecticut", and WTNH's "Connecticut Style" … among
others. Excerpts from two of his original songs were included on an Emmy Award winning
documentary, A Connecticut Yankee In Red Square, produced by Connecticut
Public Television. Two other original compositions were included in the
"We Like Kids" Songbooks, distributed throughout the United States.

"Callinan is an expert at getting the audience to take part in the performance."
– The Evening Gazette, Worcester, MA

For bookings & further information, contact:
CRACKERBARREL ENTERTAINMENTS
55 East Town Street • Norwich, CT 06360
Phone: (860) 889-6648 • Website: www.Crackerbarrel-Ents.com
E-Mail: Tom.C@Crackerbarrel-Ents.com