Tom Callinan
THE "GAY 90S" & "GILDED AGE" REVISITED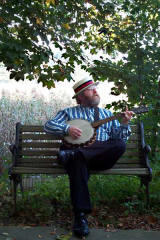 Throughout the 20th Century, the songs of "The Gay 90s" and "The Gilded Age" have brought people together with their lovely lilting melodies and oftimes sentimental lyrics. These were the first truly popular songs (in the commercial sense), thanks to the ability to produce and mass-distribute them as sheet music. Since this era predated the advent of recorded music [whether Edison cylinders or victrola (i.e. phonograph) records], people could play them themselves, and these tunes thus became the "old standards" from the dawn of today's technological age.
Sporting a straw skimmer hat, and using an assortment of musical instruments from the wind, string, and percussion families, TOM CALLINAN dusts off a selection of these old chestnuts … many of them having been learned at the knee of his late-father, who had performed in barbershop quartets and minstrel shows in his early years. Tom brings these songs to life with his affable delivery, and his knack for teaching and involving audiences of all ages in his performances.
The program includes such classics as: "In The Good Old Summertime", "The Band Played On", "Ta-Ra-Ra-Boom-Di-Ay", "Give My Regards To Broadway", "Margie", "Sweet Rosie O'Grady", among others. Novelty songs of the day, include: "The Cat Came Back", "When Father Papered The Parlour", "Where Did You Get That Hat?", "Who Threw The Overalls in Mrs. Murphy's Chowder?", etc.
Well-known songs with parody verses, such as : "After The Ball", and "The Man On The Flying Trapeze" are included, as well as "Bill Bailey Won't You Please Come Home!", "Hello My Baby", and "Heart Of My Heart". Other songs of the period which may be somewhat less familiar, such as: "Bill Grogan's Goat", "The Little Red Shirt Me Mother Gave To Me", and "Woodman, Spare That Tree", among others, round out the program. It's sure to have people singing-along and tapping their toes as their parents or ancestors did way-back-when.
By the end of the program, audience members who have been whisked back through time will leave, humming "Sweet Adeline", and looking in the parking lot for their "Bicycle Built For Two". They may wonder about "Sailing Over The Bounding Main", or if it's time to replace their old gaslights and oil lamps with those new-fangled electric lights.