Tom Callinan's "Forget-Me-Nots"
Tom Callinan's 20th CD, released in 2017, marks his 40-year career in the creative and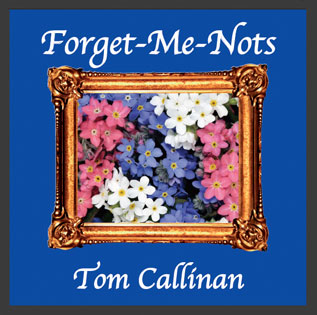 performing arts. Designated Connecticut's first Official State Troubadour in 1991, Tom's travels have taken him throughout the Northeast and the Eastern Seaboard of the United States (and beyond). The 17 original compositions on "Forget-Me-Nots" represent an eclectic miscellany of remembrances: people, places, and events from colonial times to the present day – that should NOT be forgotten.
Individually and/or collectively, Tom's diverse songs reinforce the premise that musical storytelling, combined with catchy tunes and interesting instrumentation, can be a fun way of teaching, learning and appreciating history. A multi-instrumentalist, Mr. Callinan accompanied his lead and harmony vocals with an array of instruments from the string, wind, and percussion families.
Included are songs he has performed at memorial dedication ceremonies and/or special commemorative events: "Gone, But Not Forgotten"; "Norwich's Lifesaving Tree"; "The Year Of The Submarine"; "Jewett Williams' Journey"; "The Milford Monument"; "The Boys Of The C.C.C."; and "Patriots In Christ Church Graveyard". Jasper Schuringa, a hero, who thwarted the "underwear bomber", attempting to detonate a bomb on a plane on Christmas Day, 2009 is remembered in "The Flying Dutchman"; and "The Turncoat Parade" represents Tom's satirical proposal to use the memory of the enigmatic hero-turned-traitor, Benedict Arnold as a tourist-attraction for cash-strapped Norwich, CT. Songs about historical figures, include: "Uncas Leap", about the Mohegan Sachem Uncas; and "Mending Soles, Saving Souls", drawn from the autobiography of self-emancipated slave James Lindsey Smith, whose early life in Virginia, and his post-slavery life in the North, should be inspirational to intergenerational and multi-cultural audiences. Teachers, administrators, students and historians have long praised Tom's talent for transforming stories about real-life people and events into songs.
Tom's personal perspective involves family members: "Sailing" is a fond farewell to his father-in-law; and "Searching For Great-Uncle Jerry", chronicles his quest for his grandfather's younger brother, Jeremiah J. Coleman, who was killed in action in France in 1918, at age 24. Since 2017 also marks the centennial of the United States' entry into World War I, this song serves as a poignant reminder for us to never forget the names and sacrifices our veterans and fallen countrymen have made on our behalf.

The album may be purchased for $17 for each CD, including shipping.
For further information, contact CRACKERBARREL ENTERTAINMENTS:
(860) 669-6648 or info@crackerbarrel-ents.com