This collection of diverse songs, like the state of Connecticut itself, has its roots in early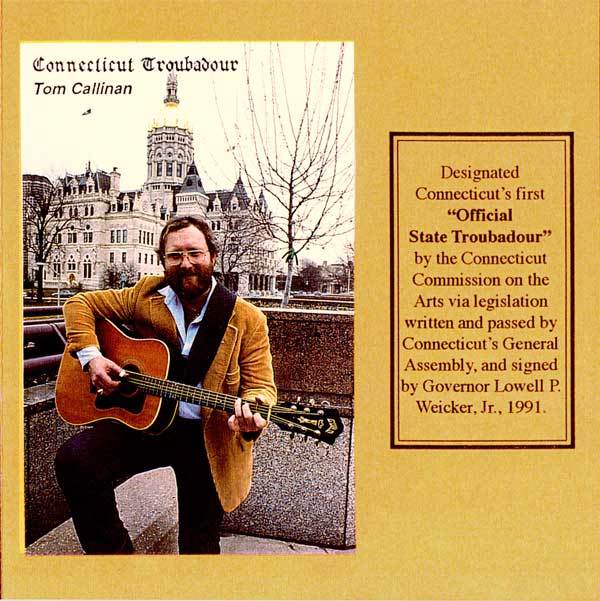 America, and stretches to modern times. Sometimes folky, sometimes jazzy, the songs represent the people who have created an ethnic patchwork in calling Connecticut home. Four of the songs, indicated (*), were considered for the title of Connecticut's Official State Song in 1977; "Yankee Doodle" was the winner.
Tom Callinan, who was designated Connecticut's first "Official State Troubadour" [the year after this album was released] , provides lead and harmony vocals, and is self-accompanied on: guitar, pennywhistles, 2 bodhrans (and a guitar case!), harmonica, Omnichord, steel drum, conga drums, maracas, and orchestra (and other) bells.
"Tom Callinan is a charismatic performer, whose musical ability and inventive compositions have fashioned his recognition as a celebrated Connecticut troubadour." – John Ostrout, former Executive Director, Connecticut Commission on the Arts
"Those of us who have been treated to his music consider Tom Callinan one of Connecticut's chief and most versatile assets: balladeer, composer, performer on a score of instruments. There are many around the state who consider him the unofficial Connecticut Troubadour." – Stephen B. Heintz, Commissioner, Connecticut Department of Economic Development
Tom was accompanied by a number of notable "CONN-ARTISTS": TONY MORRIS on fiddle and acoustic bass; PHIL ROSENTHAL [later Connecticut's 3 rd "Official State Troubadour"] on 5-string banjo, mandolin, and electric bass; DON SINETI on 5-string banjo and back-up vocals; ANN SHAPIRO (Tom's wife) on back-up vocals; and BILL WALACH on electric mandolin, Hawaiian guitar, and electric bass. THE FABULOUS PHEROMONES (Cliff Furnald on mandolin and back-up vocals); Dave "Bobo" Lavorgna on acoustic bass; Jim Luft on violin; and Matt Kastner on guitar and back-up vocals) graciously provided stellar accompaniment on their arrangement of "Connecticut Is The Place For Me".

Produced by Tom Callinan in 1990 as a cassette, "Connecticut Troubadour" was re-released as a CD in 1999. The album was recorded, mixed, and mastered by Phil Rosenthal, co-owner of American Melody Studios in Guilford, CT. The cover photo was taken by Noel Tomas of the Connecticut Commission on the Arts. Insert Printing was by Technique Printers in Clinton, CT. And the CDs were duplicated by Bob Nary, owner of Suite Audio of Clinton, CT.