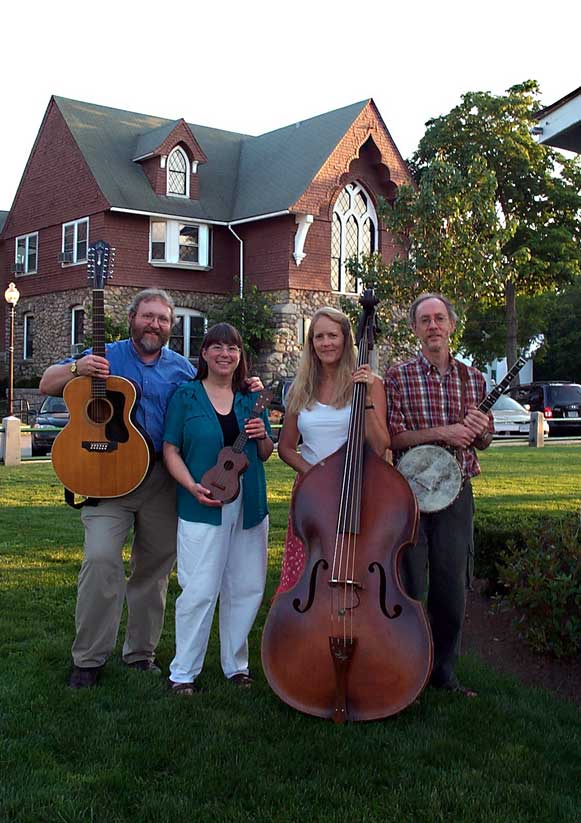 Phil and Beth Rosenthal , Tom Callinan, and Ann Shapiro combine talents to form Fancy Folk , performing traditional and contemporary folk music for the whole family. The two husband and wife duos perform in varying combinations including sing-a longs and toe-tapping instrumentals.
Phil Rosenthal formerly toured internationally with the popular bluegrass band "Seldom Scene" before returning to his hometown of Guilford, Connecticut. Phil recently held the title of "Official State Troubadour", and performs throughout Connecticut as a solo artist, and with his wife, Beth Sommers-Rosenthal. Together they co-founded American Melody Records , an independent label that has continuously produced high quality, award-winning children's and family recordings.
Tom Callinan, who was Connecticut's first "Official State Troubadour" in 1992, performs throughout the Eastern Seaboard as a solo artist, as a member of "The Morgans", and with his wife, Ann Shapiro. Ann also performs as a solo folksinger and storyteller, presenting Arts-In-Education programs for students of all ages. Tom and Ann co-manage Crackerbarrel Entertainments, an agency which provides educational enrichment programs and family entertainment to schools, libraries, and museums.